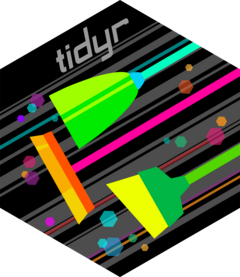 Pivoting
Source:
vignettes/pivot.Rmd
pivot.Rmd
Introduction
This vignette describes the use of the new pivot_longer() and pivot_wider() functions. Their goal is to improve the usability of gather() and spread(), and incorporate state-of-the-art features found in other packages.
For some time, it's been obvious that there is something fundamentally wrong with the design of spread() and gather(). Many people don't find the names intuitive and find it hard to remember which direction corresponds to spreading and which to gathering. It also seems surprisingly hard to remember the arguments to these functions, meaning that many people (including me!) have to consult the documentation every time.
There are two important new features inspired by other R packages that have been advancing reshaping in R:
pivot_longer() can work with multiple value variables that may have different types, inspired by the enhanced melt() and dcast() functions provided by the data.table package by Matt Dowle and Arun Srinivasan.

pivot_longer() and pivot_wider() can take a data frame that specifies precisely how metadata stored in column names becomes data variables (and vice versa), inspired by the cdata package by John Mount and Nina Zumel.
In this vignette, you'll learn the key ideas behind pivot_longer() and pivot_wider() as you see them used to solve a variety of data reshaping challenges ranging from simple to complex.
To begin we'll load some needed packages. In real analysis code, I'd imagine you'd do with the library(tidyverse), but I can't do that here since this vignette is embedded in a package.
Longer
pivot_longer() makes datasets longer by increasing the number of rows and decreasing the number of columns. I don't believe it makes sense to describe a dataset as being in "long form". Length is a relative term, and you can only say (e.g.) that dataset A is longer than dataset B.
pivot_longer() is commonly needed to tidy wild-caught datasets as they often optimise for ease of data entry or ease of comparison rather than ease of analysis. The following sections show how to use pivot_longer() for a wide range of realistic datasets.
Wider
pivot_wider() is the opposite of pivot_longer(): it makes a dataset wider by increasing the number of columns and decreasing the number of rows. It's relatively rare to need pivot_wider() to make tidy data, but it's often useful for creating summary tables for presentation, or data in a format needed by other tools.
Longer, then wider
Some problems can't be solved by pivoting in a single direction. The examples in this section show how you might combine pivot_longer() and pivot_wider() to solve more complex problems.
World bank
world_bank_pop contains data from the World Bank about population per country from 2000 to 2018.
My goal is to produce a tidy dataset where each variable is in a column. It's not obvious exactly what steps are needed yet, but I'll start with the most obvious problem: year is spread across multiple columns.
Next we need to consider the indicator variable:
Here SP.POP.GROW is population growth, SP.POP.TOTL is total population, and SP.URB.* are the same but only for urban areas. Let's split this up into two variables: area (total or urban) and the actual variable (population or growth):
Now we can complete the tidying by pivoting variable and value to make TOTL and GROW columns:
Multi-choice
Based on a suggestion by Maxime Wack, https://github.com/tidyverse/tidyr/issues/384), the final example shows how to deal with a common way of recording multiple choice data. Often you will get such data as follows:



multi

 

<-

 tribble

(


  

~

id

, 

~

choice1

, 

~

choice2

, 

~

choice3

,
  

1

, 

"A"

, 

"B"

, 

"C"

,
  

2

, 

"C"

, 

"B"

,  

NA

,
  

3

, 

"D"

,  

NA

,  

NA

,
  

4

, 

"B"

, 

"D"

,  

NA




)
But the actual order isn't important, and you'd prefer to have the individual questions in the columns. You can achieve the desired transformation in two steps. First, you make the data longer, eliminating the explicit NAs, and adding a column to indicate that this choice was chosen:



multi2

 

<-

 

multi

 %>% 
  pivot_longer

(


    cols 

=

 

!

id

, 
    values_drop_na 

=

 

TRUE


  

)

 %>% 
  mutate

(

checked 

=

 

TRUE

)




multi2


#> 

# A tibble: 8 × 4




#>      id name    value checked


#>   

<dbl>

 

<chr>

   

<chr>

 

<lgl>

  
#> 

1

     1 choice1 A     TRUE   
#> 

2

     1 choice2 B     TRUE   
#> 

3

     1 choice3 C     TRUE   
#> 

4

     2 choice1 C     TRUE   
#> 

5

     2 choice2 B     TRUE   
#> 

6

     3 choice1 D     TRUE   
#> 

7

     4 choice1 B     TRUE   
#> 

8

     4 choice2 D     TRUE
Then you make the data wider, filling in the missing observations with FALSE:



multi2

 %>% 
  pivot_wider

(


    id_cols 

=

 

id

,
    names_from 

=

 

value

, 
    values_from 

=

 

checked

, 
    values_fill 

=

 

FALSE


  

)


#> 

# A tibble: 4 × 5




#>      id A     B     C     D    


#>   

<dbl>

 

<lgl>

 

<lgl>

 

<lgl>

 

<lgl>


#> 

1

     1 TRUE  TRUE  TRUE  FALSE
#> 

2

     2 FALSE TRUE  TRUE  FALSE
#> 

3

     3 FALSE FALSE FALSE TRUE 
#> 

4

     4 FALSE TRUE  FALSE TRUE
Manual specs
The arguments to pivot_longer() and pivot_wider() allow you to pivot a wide range of datasets. But the creativity that people apply to their data structures is seemingly endless, so it's quite possible that you will encounter a dataset that you can't immediately see how to reshape with pivot_longer() and pivot_wider(). To gain more control over pivoting, you can instead create a "spec" data frame that describes exactly how data stored in the column names becomes variables (and vice versa). This section introduces you to the spec data structure, and show you how to use it when pivot_longer() and pivot_wider() are insufficient.