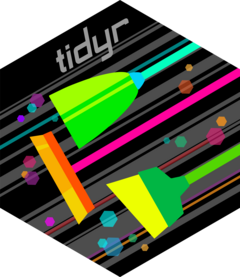 Extract a character column into multiple columns using regular expression groups
Source:
R/extract.R
extract.Rd
extract() has been superseded in favour of separate_wider_regex() because it has a more polished API and better handling of problems. Superseded functions will not go away, but will only receive critical bug fixes.
Given a regular expression with capturing groups, extract() turns each group into a new column. If the groups don't match, or the input is NA, the output will be NA.
Arguments
data

A data frame.

col

<tidy-select> Column to expand.

into

Names of new variables to create as character vector. Use NA to omit the variable in the output.

regex

A string representing a regular expression used to extract the desired values. There should be one group (defined by ()) for each element of into.

remove

If TRUE, remove input column from output data frame.

convert

If TRUE, will run type.convert() with as.is = TRUE on new columns. This is useful if the component columns are integer, numeric or logical.

NB: this will cause string "NA"s to be converted to NAs.

...

Additional arguments passed on to methods.
Examples
df

 

<-

 tibble

(

x 

=

 c

(

NA

, 

"a-b"

, 

"a-d"

, 

"b-c"

, 

"d-e"

)

)




df

 %>% 

extract

(

x

, 

"A"

)




#>

 

# A tibble: 5 × 1




#>

   A    


#>

   

<chr>




#>

 

1

 

NA

   


#>

 

2

 a    


#>

 

3

 a    


#>

 

4

 b    


#>

 

5

 d    


df

 %>% 

extract

(

x

, c

(

"A"

, 

"B"

)

, 

"([[:alnum:]]+)-([[:alnum:]]+)"

)




#>

 

# A tibble: 5 × 2




#>

   A     B    


#>

   

<chr>

 

<chr>




#>

 

1

 

NA

    

NA

   


#>

 

2

 a     b    


#>

 

3

 a     d    


#>

 

4

 b     c    


#>

 

5

 d     e    





# Now recommended




df

 %>%
  separate_wider_regex

(


    

x

,
    patterns 

=

 c

(

A 

=

 

"[[:alnum:]]+"

, 

"-"

, B 

=

 

"[[:alnum:]]+"

)


  

)




#>

 

# A tibble: 5 × 2




#>

   A     B    


#>

   

<chr>

 

<chr>




#>

 

1

 

NA

    

NA

   


#>

 

2

 a     b    


#>

 

3

 a     d    


#>

 

4

 b     c    


#>

 

5

 d     e    





# If no match, NA:




df

 %>% 

extract

(

x

, c

(

"A"

, 

"B"

)

, 

"([a-d]+)-([a-d]+)"

)




#>

 

# A tibble: 5 × 2




#>

   A     B    


#>

   

<chr>

 

<chr>




#>

 

1

 

NA

    

NA

   


#>

 

2

 a     b    


#>

 

3

 a     d    


#>

 

4

 b     c    


#>

 

5

 

NA

    

NA