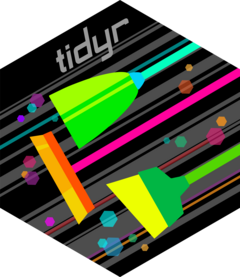 Function reference
Pivoting
Pivoting changes the representation of a rectangular dataset, without changing the data inside of it. See vignette("pivot") for more details and examples.
Pivot data from wide to long
Pivot data from long to wide
Rectangling
Rectangling turns deeply nested lists into tidy tibbles. See vignette("rectangle") for more details and examples.
Character vectors
Multiple variables are sometimes pasted together into a single column, and these tools help you separate back out into individual columns.
Split a string into rows
Split a string into columns
Unite multiple columns into one by pasting strings together
Missing values
Tools for converting between implicit (absent rows) and explicit (NA) missing values, and for handling explicit NAs.
"Uncount" a data frame
Nest rows into a list-column of data frames
Superseded
Superseded functions have been replaced by superior solutions, but due to their widespread use will not go away. However, they will not get any new features and will only receive critical bug fixes.